Your Complete Guide to Mounted Shooting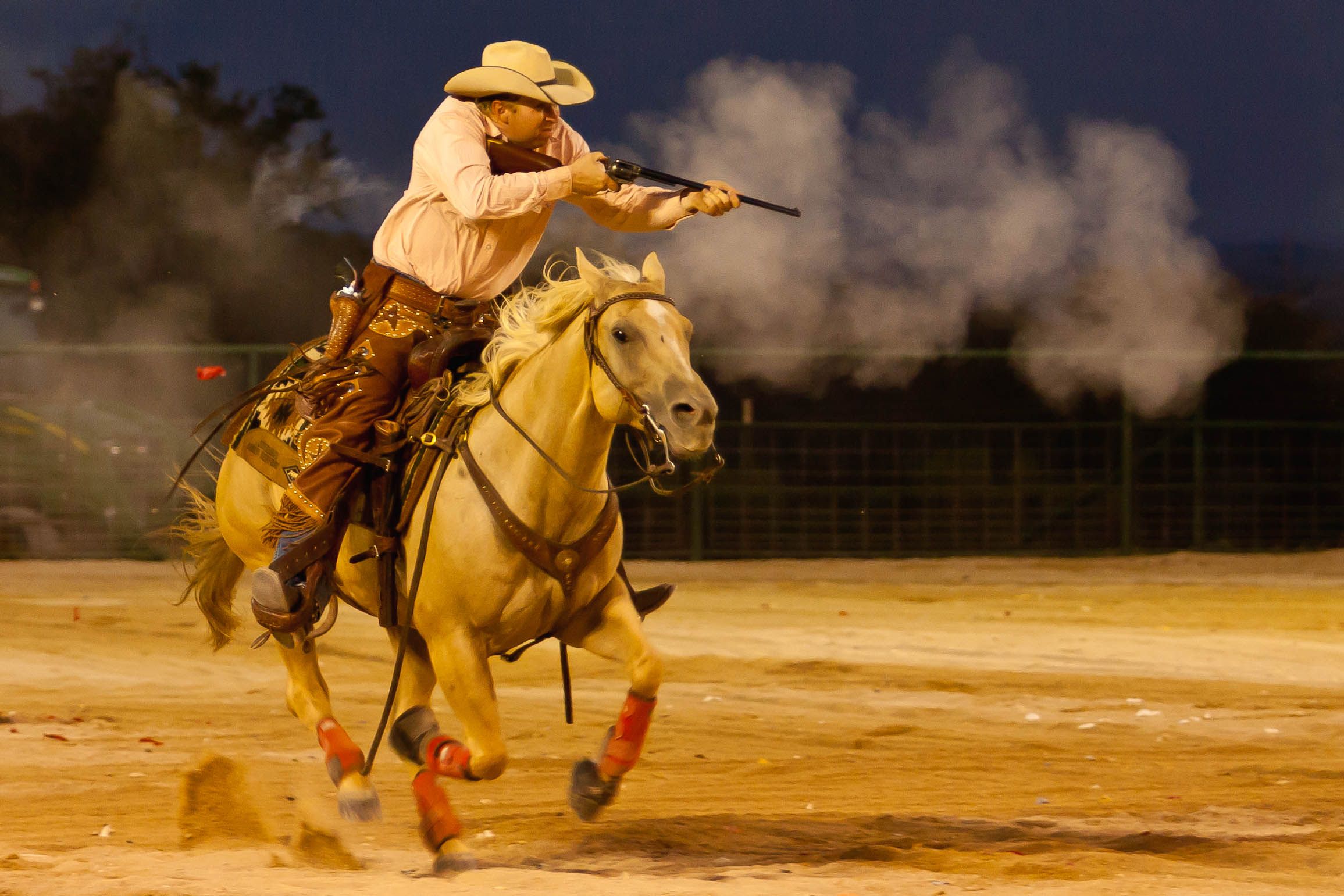 Do you like shooting, horses, and competitive sports that acknowledge skill and speed? Are you a fan of the 19th-century style of the Wild West? Then cowboy mounted shooting may be the sport for you.
This equestrian event helps build horseriding skills, shooting skills, and speed all at the same time. There's also a focus on learning gun safety that starts at an early age during training classes.
Read on to learn everything you need to know about mounted shooting and how to get started today!
What Is Mounted Shooting? 
Cowboy mounted shooting is a competitive sport that harkens back to the Wild West when cowboys needed shooting and riding skills to survive and protect their cattle. It's a timed event that tests an athlete's riding and shooting skills.
The Cowboy Mounted Shooting Association (CMSA) and Mounted Shooters of America promote the sport. CMSA was founded in 1993, while Mounted Shooters of America was founded later in 2001.
During a competition, riders will typically go through two to four courses that have different patterns. The CMSA offers 60 different courses while the MSA has 20. There are seven different classes that you can join:
Ladies
Men
Senior Ladies
Senior Men
Junior
Wrangler Open
Wrangler Limited
The Wrangler Open classes are for children under the age of 10, while Wrangler Limited is for children aged 10 to 12. Each class is broken up into six different skill levels. Participants are scored based on how fast they complete a course and how accurate they are when shooting the balloons. They'll also need to shoot the balloons in the correct order.
The MSA has non-pro, semi-pro, and pro levels that are all split by gender.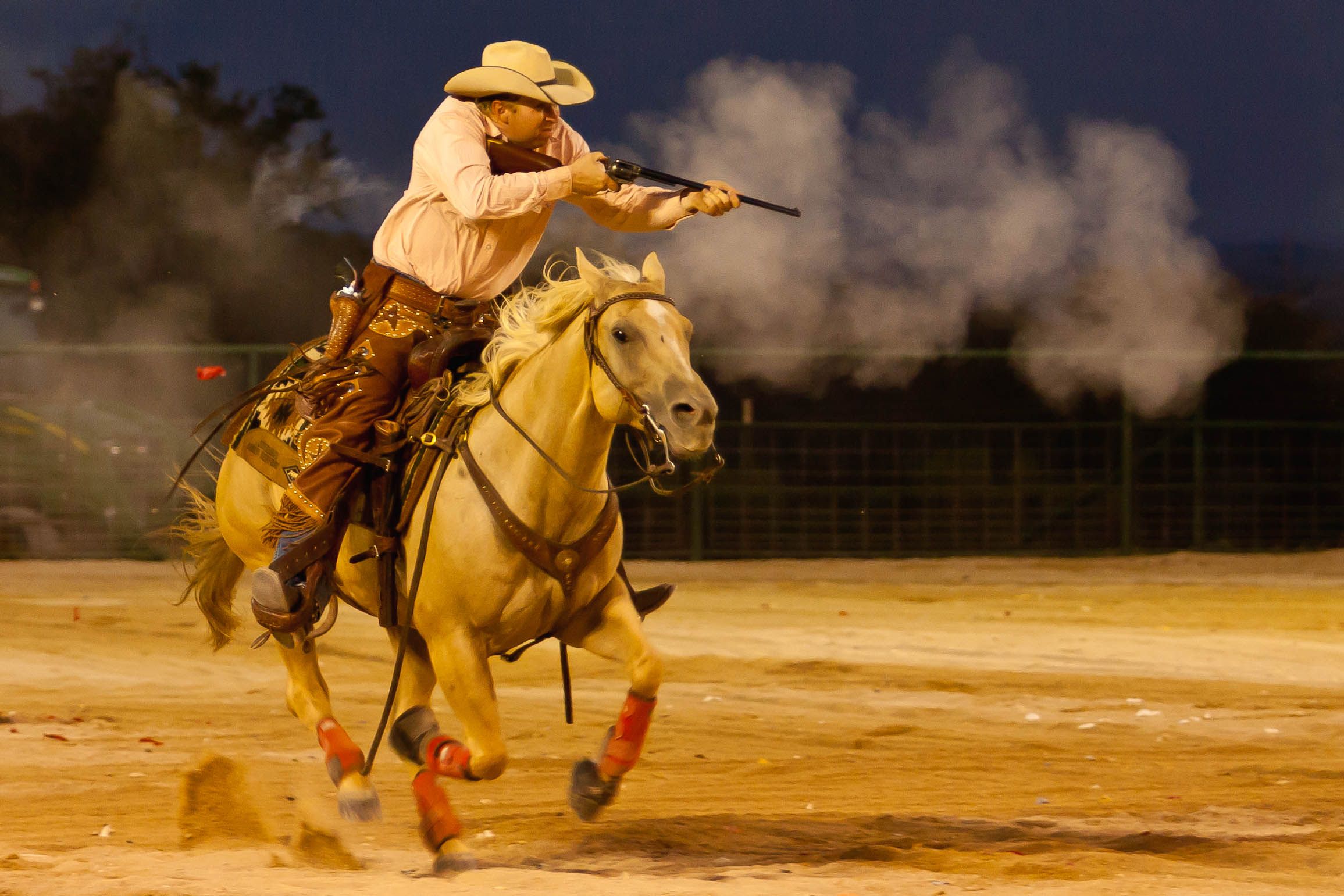 Firearms and Ammo
According to the CMSA Range Master/Competitors Guide, firearm safety is stressed and only specific types of guns and ammo can be used during competitions and while practicing.
In CMSA competitions, only fixed sight, single-action revolvers that are designed before 1898 can be used, but you can also use reproductions. Your reliable home defense guns like Sig Sauer Pistols may need to be left at home.
As far as ammo, only blanks with an effective range of fewer than 20 feet can be used. Providers need to have their rounds tested and certified by CMSA before they can be used by participants.
Children don't ride and shoot. They'll fire blanks from the ground with their parent at their side, and while they're riding they'll use Hollywood cap pistols.
Horses
The CMSA and MSA are very flexible when it comes to horses. It's important that your horse or mule is healthy and in good condition. If you're a new competitor, you'll need to demonstrate that your horse is safe to use in a competition.
Horses will need to be prepared and trained in order to get accustomed to loud noises while also following your directions at the same time. You'll need to have patience and work with your horse slowly in order to desensitize them to gunfire.
For instance, try popping balloons and ground firing near your horse. You'll also want to get them used to being near all the course equipment. Once your horse is a little more acclimated, one option you have is taking them to competitions and letting them be around more noise and gunfire.
Some people also get earplugs for their horses, especially if they're not used to loud noises at all. This makes the adjustment period far easier because you won't be overtly startling or traumatizing them.
Gear
Along with your horse, tack, single-action revolver, and blank ammo, you'll also need a few more pieces of gear in order to start. In competitions, it's required that you dress western. This can either be a modern-style or the 1800's style. This includes:
Long sleeve western shirt
Blue jeans covered by chinks or chaps
Western boots
Cowboy hat
You'll also want a leather gun holster that's a replica of those used in the 1800s. It's important to look as authentic as possible!
Mounted Shooting Clinics
If you're completely new to cowboy mounted shooting, then it's recommended to join a beginner class or clinic so that you can gain all the foundational knowledge you need for success. Clinics usually last a few hours for one day. They'll often go over:
Proper gun handling
Ground shooting
Desensitizing horses to gunfire
Pattern/course work
Cowboy mounted shooting lessons are also recommended if you want to eventually be on a semi-pro or professional level. The extra guidance will help you learn what you're doing wrong and what needs adjustments through unbiased, professional eyes. These trainings typically last at least a month or two, and you'll pay a flat fee upfront.
You also have the option of hourly lessons. This is a great option if you need one-on-one help with specific skills that you find yourself repeatedly struggling with.
Benefits of Cowboy Mounted Shooting
Even though it's a competitive sport, cowboy mounted shooting is community-oriented because events are typically well-organized. Everyone wants to help each other succeed and they do this by sharing helpful information with a strong emphasis on gun, horse, and participant safety.
Each course or pattern is judged based on speed and accuracy, so as you become more practiced at the sport you'll find you'll have greater control and bond with your horse along with the ability to quickly fire and hit targets at range.
Ready to read about more equestrian sports to get into this summer or want more information on cowboy mounted shooting? Keeping reading our blog for more informative articles!
For more advanced shooting equipment, such as riflescopes, check out ZeroTech